Through the generous support of our donors and the incredible dedication of our team of volunteers, the Chris Hope Foundation offers an array of programs to serve our affiliated children's hospitals and cancer centers.
Each program takes a unique approach to serving families facing the radical effects that occur after a child is diagnosed with a life-threatening illness.
The families we currently serve have children undergoing treatment at St. Jude Children's Research Hospital, Le Bonheur Children's Hospital, and Children's of Alabama. Our deep relationships with each hospital's family services team keeps us constantly aware of what unique needs their families have and how we can help.
That's why we're here.
GIVING HOPE SCHOLARSHIP
The diagnosis of childhood cancer changes the trajectory of patients' futures even several years after treatment concludes and they enter remission.
We have seen teen patients lose scholarships they thought they could count on due to factors beyond their control, such as a late start after treatment. Some teens who beat their illness are still left with little to no funds to achieve their post-secondary education.
In 2018, we created the annual Giving Hope Scholarship fund to help teens who have had or are currently battling pediatric cancer.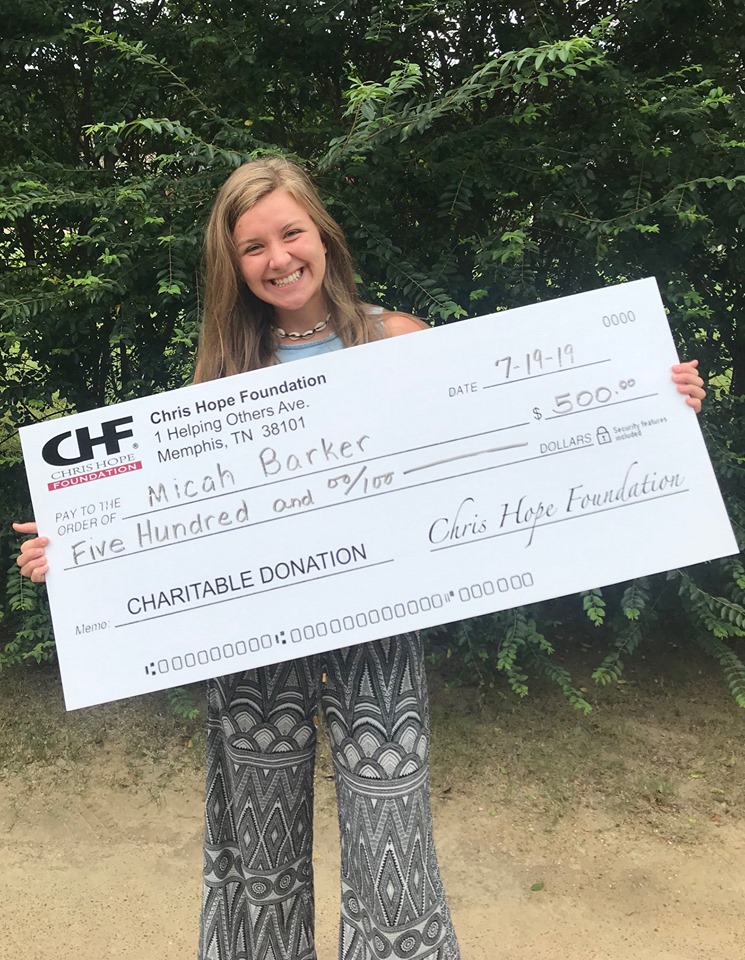 TeamHOPE
The Chris Hope Foundation's TeamHOPE is a group dedicated to raising funds for ill children and the hospitals that serve them. The team is made up of over 100 members from all corners of the country and we are always welcoming others to join us. TeamHOPE proudly averages $110,000 each year through fundraising events and engaging campaigns. These dedicated crusaders also participate in races benefiting the cause throughout the year, all in the name of raising awareness of pediatric cancer and finding a cure.
Run the St. Jude race with TeamHOPE!
When you register for the 2019 St. Jude Marathon, Half-Marathon, or 5K, search for TeamHOPE in the team list
LYLAH GREY'S RAY OF HOPE
This gift-giving program gives light to children undergoing treatment for life-threatening illnesses and those who have recently completed their treatment. Each year, this program is brought to one of our hospital affiliates and never fails to bring the brightest of smiles to the faces of those experiencing some of the darkest of times.
Happy Hearts
The Chris Hope Foundation is proud to introduce its newest initiative, Happy Hearts. This program was born out of our desire to bring to life final wishes of pediatric patients in hospice or end-of-life care. Through Happy Hearts, we grant a wide array of requests, which may range from a custom shirt to a family gathering or even a pampering party.